The data bellow doesn't refer to the current blockchain.
What is Elrond?
Elrond Network brands itself as an Internet-scale public blockchain. It offers a fast and secure platform able to host distributed apps from other chains and to suit the needs of enterprises interested in digital currencies. The network is building up the new internet economy while also preparing grounds for mass adoption.
The developers' team behind the project claim Elrond Network can bring up to 1000x increase in throughput for faster transactions on existing decentralized blockchains. For that, Elrond employs a number of technical solutions most notable of which are Adaptive State Sharding architecture and Secured Proof-of-Stake consensus model. Elrond is also designed for interoperability allowing smart contracts from other networks to run on its chain via a built-in virtual machine that translates them from any WebAssembly compatible language instantly.
Elrond is a brainchild of a Romanian startup, co-founded in 2018 by two brothers Beniamin and Lucian Mincu, and a tech entrepreneur Lucian Todea. In June 2019 the project went worldwide, gaining support from global investors. In its first private investment round, Elrond raised $1.9 million from Binance Labs, Electric Capital, NGC Partners, Maven 11, and Woodstock.
The mainnet was launched in July 2020, and the chain's new native token, known as eGold or EGLD, was introduced. It has since served as the main driver for the growing network, where it is used as payment for transactions issued to validators as well as a reward for staking. In January 2021, Elrond introduced its flagship product Maiar app. It started as a wallet but plans to incorporate a wide range of DeFi services in the future.
Curiously, Elrond Network refers its name to the character of J.R.R.Tolkien who was an elf lord known for his vitality which seems like a good luck charm on an extremely volatile and uncertain cryptocurrency market. The names of some other ecosystem projects are easter eggs for fantasy lovers as well. One example of that is Elrond's native DeFi app Maiar which uses the name of omnipresent primordial spirits who shaped the world. And, there's Arwen Virtual Machine that helps developers to use various languages while building on Elrond - that actually appropriates the name of Elrond's daughter from Tolkien's universe.
How does Elrond work?
To increase its scalability, the Elrond blockchain employs the so-called Adaptive State Sharding architecture which implies that each block of data is divided into smaller segments called shards each being facilitated by different nodes on the network in parallel. To maintain a high level of security, sharding implements at once on all three levels of the network - state, network, and transactions. This system ensures that the throughput capabilities of Elrond will scale with each node joining the network.
As a consensus mechanism, Elrond uses a secure proof-of-stake model where validators for each shard are selected at random. In addition, Elrond employs validators rating on this system, whereas their score reflects each validator's overall behavior on the network, considering beyond the size of their stake.
There are other roles for nodes on Elrond besides being a validator which currently requires 2500 EGLD to be staked. There're so-called Fishermen who are validators themselves but not involved in the current consensus round. Fishermen join to verify the validity of blocks to ensure there are no malicious actors or invalid data. Node operators without a stake are called Observers on Elrond. They don't take part in the consensus process but support the network by watching over consensus participants' behavior and relaying absorbed information which later impacts validators' rating score. All nodes are rewarded for their service in EGLD tokens proportionally.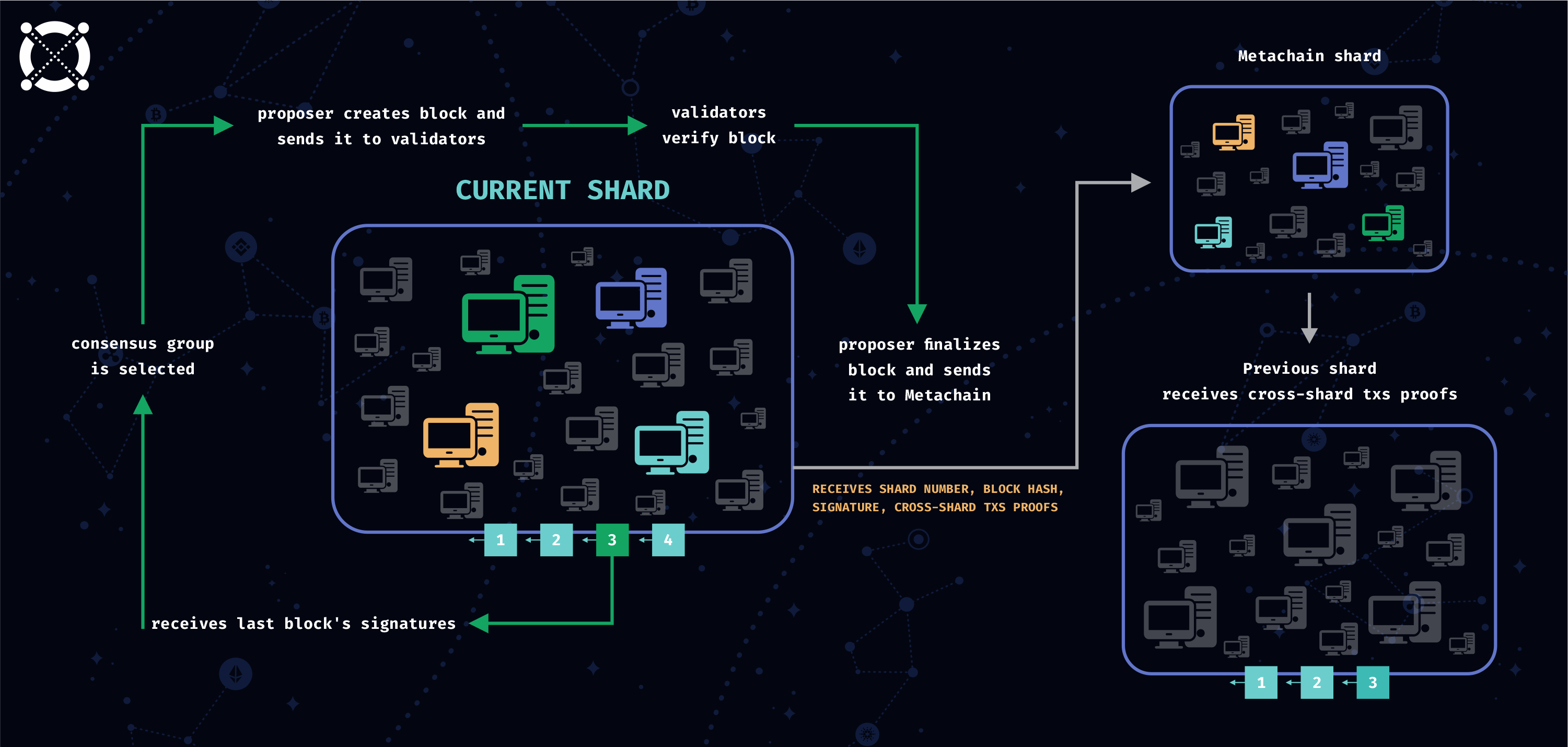 Another important feature that allows Elrond to go for interoperability and cross-chain future is its Elrond Virtual Machine that allows smart contracts written in any language compatible with WebAssembly to be executed on-chain with no delays.
All the above is powered by the Metachain which is Elrond's primary layer blockchain, running on a separate shard that is responsible for managing data, creating new epochs, enabling communication between shards, rewarding or punishing nodes, and so forth.
Elrond took its time to prepare the ground for easy integration of distributed apps from other chains while continuously shaping up its own native ecosystem.
How to use Elrond?
Elrond network can be used for a number of cases such as the development of own dApps, the detailed guide will allow developers to create their own applications. The Elrond Network supports the most popular programming languages including Rust, C, and C++.
Elrond wallet support includes Coin98, Maiar DeFi Wallet, Trust Wallet, Elrond Wallet, Frontier, NGRAVE, Metamask, Crypto.com, Atomic Wallet, and Ledger.
Users can also easily integrate DEXes, wallets and other platforms through the comprehensive tutorial, which can be found here. The platform also allows creating a custom Elrond Standard Digital Token, which can be issued, owned and held by any account on the Elrond network. The guide on how to create custom tokens can be found here.
Those wishing to integrate Elrond's native coin, EGLD, in a platform that handles EGLD transactions for their users, can find the integration guide here.
Users wishing to take part in validating transactions and earn rewards, have to run a node. Each node needs to stake 2500 EGLD to become a Validator and is rewarded for its service. The full guide on setting up a node can be found here.
The EGLD token
EGLD token, known as eGold is the main exchange medium on Elrond blockchain. It is currently used as payment method for transactions that are divided between participating nodes and also is issued as a reward for staking.
The token was introduced when Elrond mainnet went live in July 2020. Before that, the testnet was using ERD tokens that were converted to EGLD at 1000 to 1 rate.
The initial supply of EGLD at the genesis point was limited to 20 million tokens. While the developers say that its maximum supply at some point may grow to over 31 million, it will be later gradually reduced due to all accumulated fees.
ESDT is the standard for tokens on Elrond mainnet, while eGold may also exist in a form of ERC-20 or BEP-20 standards because initially some amount of the token was minted on Binance Smart Chain and Ethereum. Those tokens can now be easily migrated to the mainnet via an easy-to-use bridge tool.
Is Elrond safe?
According to the team, Elrond has passed "multiple audits from Trail of Bits and others" but the results haven't been made public yet.
Elrond started as a Romania-based startup and the team behind the project is well-known and totally visible. The network lists all of its current employees on its website. All three co-founders are currently involved with the project in leadership positions. Beniamin Mincu is Elrond's CEO, while his brother Lucian Mincu is the CIO of the protocol. They have collaborated before Elrond when both co-founded a digital assets investment fund called MetaChain Capital. Lucian Todea, who serves as the COO at Elrond, was previously known as the founder & CEO of Soft32.
Ecosystem & Partners
As happens with many other projects in DeFi, Elrond Network is still in the process of the ongoing development of its native ecosystem. There are currently quite a few working services and tools on Elrond to fit the needs of the community. Like The Elrond Blockchain Explorer tool that shows the network's heartbeat. Elrond Bridge allows swapping assets from ERC-20 to EGLD standards. Elrond Wallet is intended for storing, transferring, and receiving EGLD tokens.
The flagship product on Elrond is Maiar App, launched in January 2021. It's currently available on iOS and Android mobile devices. As a wallet, the app supports EGLD, ETH, BNB, and BTC with a promise to integrate more coins in the future.
While standing on the grounds of interoperability and mass adoption of blockchain solutions, Elrond keeps gaining attention from the global DeFi industry and has integrated with some notable projects over time. The full map of Elrond's ecosystem can be found here.
Elrond has also an investment fund dedicated to the growth of the network's ecosystem called Skynet EGLD Capital. The strategic backers of the fund include such organizations as Morningstar Ventures, Spark Digital Capital, Woodstock, Verko, and others. The fund has the additional support of Binance Institutional, MEXC, Huobi Global, Kucoin, and Bitmart. Skynet EGLD Capital has recently announced that it has raised more than $40 million from its supporters.
Elrond has also recently acquired Of Leading Crypto Payments Provider Utrust, which utilizes Web3 payments technology. This integration facilitates instant transactions, buyer protection and crypto-to-cash settlements.
What's next?
Elrond has set a priority to grow its DeFi presence in the future by launching what is now known as DeFi2.0 Module. The goals were enlisted by the project co-founder in a blog entry from March 2021. Among other announced services that will help the app grow into the all-in-one DeFi hub on Elrond are the support of NFTs, stablecoins, synthetic assets, tokens from other chains on Elrond, and lending and borrowing opportunities.
Elrond has also revealed its plans of implementing a governance model for EGLD holders. According to the roadmap, Elrond's team expects to reach this milestone in 2022, while also planning an update to the EGLD staking model, launch on-chain governance, introduce an NFT marketplace, Elrond gamify, Maiar app 2.0 and other initiatives. The detailed roadmap of the network can be found here.
However, Elrond's ambitions go far beyond the common opportunities of modern fintech and DeFi industries. Its promo wing Istari Vision is lobbying the usage cases for Elrond among enterprises and institutions that work in the fields of IoT, Big Data, Cybersecurity, Artificial Intelligence, and Contracts & Licenses.
Links